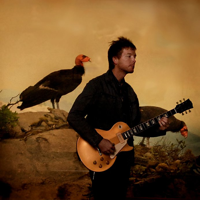 Hailed as "Denver's Guitar Guru" by Westword magazine, guitarist, composer, and educator Dave Devine is known throughout the Denver jazz and rock scene for his virtuosity as a performer, his versatility as an artist, and his keen ability to connect with and inspire his students. A self-admitted tone-obsessed pedal geek, his signature sound is one of dense layers, ambient washes, and lush sonic landscapes, all serving his goal of redefining the role of guitar in modern jazz.
Originally from Indianapolis, Devine moved to Denver in 2001 where he soon joined legendary Denver band The Czars. He toured across Europe with the group, including performances on the BBC London and Birmingham, and in 2006, he and singer John Grant toured the US in the Czars' final incarnation as a duo.
Devine has performed with friends and artists across a wide span of genres, including Art Lande, Ron Miles, The Barr Brothers, Don Byron, Chuck Prophet, Marc Broussard, Janet Feder, Elliott Sharp, Matt Wilson, Ben Goldberg, Neil Halstead, and Sun Kil Moon. He also performs with national touring productions at the Denver Center for the Performing Arts.
Most recently, Devine joined Brian Blade and the Fellowship Band at Eyeland Studios in Providence, RI for the recording of their fifth album Body and Shadow, out November 2017 on Blue Note Records.
His own projects have ranged in styles from experimental jazz (momenterra, Static Trio), and chamber pop (Greybird), to jazz metal (Hate Camels) and alternative rock (Delby L, who recorded their album Nine Skies with producer/engineer Steve Albini). Devine combines his diverse passions and influences into the music of his quartet, Dave Devine Relay, blending effect-heavy guitars, ambient noise, layered synths, and shifting meters into texturally rich instrumental pop songs.
Devine can be heard regularly around Denver with his group the Dave Devine Trio, performing instrumental versions of songs from every era and genre: jazz standards, surf rock, outlaw country, hip-hop, metal, folk, krautrock, grunge, disco, glam, and more. The Dave Devine Trio plays every first and last Friday of the month at Dazzle Jazz.
For the past five years, Devine has presented his chamber arrangements of Ennio Morricone's spaghetti western scores annually in conjunction with the Denver Western Stock Show. The Good, The Bad, and the Devine is a show as much educational as it is entertaining, and currently features Tania Katz (vocals), Shane Endsley (trumpet), Patrick Lee (keyboards), and DeVotchKa members Tom Hagerman (violin), Jeanie Schroder (bass), and Shawn King (drums).
New projects in the works include Mountain Coast, a synth/guitar collaboration with ambient electronic artist Michael Bailey, and Invisible Bird, a modern jazz trio with trumpeter Shane Endsley and drummer Scott Amendola. Both groups expect to release debut albums later this year.
Dave Devine earned his undergrad in classical guitar performance at Butler University in Indianapolis. He earned a Performer's Diploma in classical guitar performance and completed graduate work in jazz studies at Indiana University, where he was teaching assistant to David Baker. An educator at heart, Devine is Co-Director of the Jazz and American Improvised Music program at Metropolitan State University of Denver, where he has taught for the past 15 years.